Welcome to EURACTIV's Digital Brief, your weekly update on all things digital in the EU. You can subscribe to the newsletter here. 
A short personal message from me, before we start. This is my last edition of the Digital Brief for EURACTIV, today marking my final day with the company. Thank you for your loyal readership and interest throughout. Samuel Stolton, Digital Editor.
"The digital revolution has affected all corners of our lives…it has changed the media landscape and, in my personal opinion, not for the better.
"
– Commission's Vice President for Values and Transparency, Věra Jourová
Story of the week: On the occasion of EURACTIV's launch of its new 'Digital & Media' hub, I caught up with the Commission's Vice President for Values and Transparency, Věra Jourová earlier this week to discuss the wide range of issues currently impacting the European media landscape.
Podcast: This week, we examine the Commission's plans to introduce a Digital Green Certificate, whose aim is to ensure the freedom of movement within the EU during the covid crisis.
Don't miss: Ahead of the Commission's presentation of its regulation against Artificial Intelligence technologies on April 21, a draft paper from January surfaced this week that gave an insight into what could be in store…
---
Also this week: Huawei faces Romanian 5G setback, EDPB on UK data adequacy, Hamburg DPA Vs Facebook, France's data retention hearing, BEUC on DSA and DMA, Google on CSAM derogation, ECB on Digital Euro, Europol on platform data monopolisation
---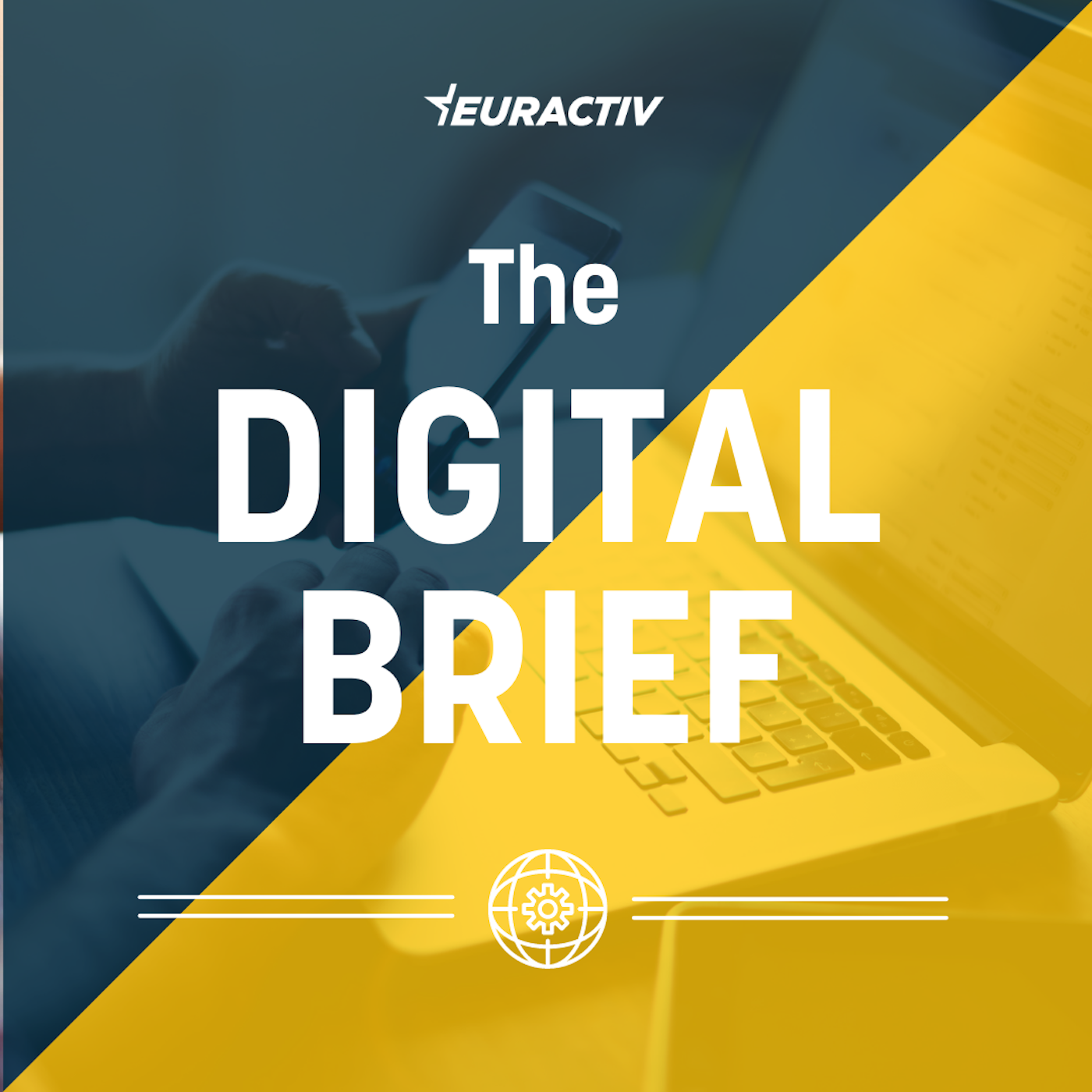 Digital Vaccine Passports are coming
Vice President for Values and Transparency, Věra Jourová, this week reflected on the state of EU media and the future for journalism in the bloc. And she had some tough words on the matter, highlighting how trends in journalism from political, financial and security aspects have worsened and how she feel 'frustrated' that EU competition rules don't cover mergers in the media world.
The Czech Commissioner also told us about her worries regarding the incoming Slovenian Presidency of the EU with respect to Prime Minister Janez Janša's treatment of journalists, the recent murders of high-profile reporters that have shocked the continent, and she also reflected on how her personal approach to media independence and plurality was shaped by her experience of living behind the iron curtain.
Read the full interview here.
Artificial Intelligence
Commission's bid to regulate AI has stakeholders…protesting. The European Commission will seek to outlaw Artificial Intelligence systems used for "indiscriminate surveillance" operations as part of new prohibitions to be put forward next week.
As part of the leaked draft regulation on a 'European approach for artificial intelligence,' the EU executive proposes to ban AI technologies that are used for "indiscriminate surveillance applied in a generalised manner to all natural persons without differentiation."
The text details such methods of surveillance as those including the "monitoring and tracking of natural persons in digital or physical environments, as well as automated aggregation and analysis of personal data from various sources".
In addition, the Commission foresees prohibitions against the use of Artificial Intelligence applications that breach Union values or violate human rights. Such include AI systems that manipulate human behaviour and predictive AI systems that target vulnerabilities.
However, the draft, which was first reported on by Politico on Tuesday (13 April), stipulates that such prohibitions will not apply to EU governments and public authorities when carried out "in order to safeguard public security."
Following the leak, stakeholders and EU legislators were quick to weigh in.
The Green's Alexandra Geese highlighted her concerns over the lack of attention paid to discriminatory AI applications – particularly regarding gender, and also the fact that the Commission is still reluctant to impose a ban on facial recognition tech in public spaces.
"It is a slap in the face of civil society that automatic facial recognition systems in public spaces are not abolished, although many citizens, MPs and thousands of petition signatories are pushing for this," she said.
MEPs with another AI letter. The leak prompted another letter from MEPs in Brussels, who raised concerns about the exemption for public authorities from the ban on indiscriminate surveillance.
Civil Society letter. This was then followed up by another letter from a group of civil society associations, who lamented the public authority exemptions and certain oversights including on predictive policing.
IMCO adopts AI report. Parliament's Internal Market committee this week adopted a report on improving the use of AI for European consumers, highlighting the challenges posed by the digital transition, from digital skills to connectivity, and calling on the Commission to support trustworthy, fair, accessible and human-centric AI technologies.
Data
EDPB on UK adequacy. The European Data Protection Board adopted its opinion on the Commission's draft adequacy decision this week, noting that there is general alignment between the EU and the UK, but that 'further assessments' of the UK's immigration exemption as part of the 2018 Data Protection Act are needed, as more scrutiny of 'onward transfers' is also required. Elsewhere, the EDPB would also like to see further clarifications on the UK's bulk interception practices and use of automated processing tools.
Hamburg DPA Vs Facebook. Germany's lead data protection regulator for Facebook said on Tuesday (13 April) that it was taking action against the social network to prevent the collection of personal data from users of its WhatsApp messaging app.
Rights groups raise ePrivacy concerns. This week, a contingent of EU rights organisations, including Access Now, Amnesty Intentional, and Liberties, have written to MEPs with their concerns of the Council's position on ePrivacy and urging them to maintain the strong position on protecting users from unlimited tracking.
Ireland launches inquiry into Facebook after reports of data leak. Ireland's Data Protection Commission (DPC) said on Wednesday it had launched an inquiry into Facebook Inc, after a dataset reportedly containing personal data relating to some 533 million Facebook users worldwide was made public. Read more.
Meanwhile, the EU's Justice Commissioner Didier Reynders said this week that has has touched base with the Irish Data Protection Commissioner about the matter and that the Commission "continues to follow this case closely."
France's data retention hearing today! France's Council of State, the country's highest legal entity, is meeting on Friday (16 April) to decide whether to allow the widespread retention of connection data, despite the EU Court of Justice in Luxembourg having already ruled against the practice several times. EURACTIV France reports.
Digital Green Passports developments. Earlier this week, EU ambassadors agreed a mandate for negotiations with the European Parliament on the proposal for a Digital Green Certificate. This certificate will facilitate safe and free movement during the COVID-19 pandemic by providing proof that a person has been vaccinated against COVID-19, received a negative test result, or recovered from COVID-19.
But there are of course wider concerns at play in the digital field for these plans. Critics say that such a centralised vaccination register could be too easily hacked and that there is a risk the sensitive health data may be used for other means by public authorities in the future. There are also worries with regards to the extent to which third parties may access some of the data obtained.
In a text endorsed by EU diplomats earlier this week, however, they did recognise the importance of strong data protection protocols, and the council said that the joint opinion of the European data protection supervisor and the European data protection board was taken into account in the composition of this week's text.
For their part, the Council has now adopted a mandate to begin negotiations with MEPs on the plans, and earlier this week, the EU's Justice Commissioner Didier Reynders was doing his part to convince members of the Civil Liberties Committee that the initiative would be fully compliant with the bloc's high data protection standards.
Reynders told members that pilot schemes will be launched at the beginning of June, with a provisional date of June 21 to have the system operational. He also spoke about the importance of preserving the principle of data minimisation as outlined in the GDPR.
Google on CSAM derogation. Google has said it backs the need for a derogation from the ePrivacy directive and supports the notion of creating a European centre that would cover law enforcement, prevention and victim support at the EU level.
Health data concerns. Health experts are urging EU policymakers and legislators to review the EU's legal data protection framework, the GDPR, which is hampering the sharing of pseudonymised health data outside the EU and the European Economic Area (EEA).
Digital Europe on DGA. Tech lobby Digital Europe has this week published its recommendations on the Commission's Data Governance Act, backing the notion of 'prudently unlocking the re-use of sensitive data' and allowing companies to take part of 'data altruism' projects, if the the data is collected for "general interest" goals.
Media
Hungary radio shutdown. A Hungarian radio station critical of Prime Minister Viktor Orbán that was forced off the air in February said on Sunday (11 April) its former frequency had been handed to a station owned by a government-friendly group.
Media crackdown in Poland. Poland's Julia Przyłębska Court on Thursday removed Adam Bodnar from the position of Ombudsman. Bodnar complained of Polish competition authority's approval of PKN Orlen's takeover of Polska Press. Earlier in the week, the Commission Vice President for Values and Transparency Vera Jourova told EURACTIV that the EU executive had concerns over the takeover.
European Broadcasting Union (EBU) on Friday warned of increasing political pressure on the public broadcaster Czech Television. As EURACTIV.cz reported, changes in the broadcaster's supervisory commission have already caught the attention of Czech European Commissioner for transparency and values, Věra Jourová, who admitted being "worried about the Czech Television." The International Press Institute has also expressed serious concerns regarding the broadcaster's future. Read more.
EU broadcasters on EU disinformation efforts. A contingent of EU media groups have this week published a joint statement calling for the Commission to increase confidence in the code of practice against disinformation, with 10 concrete steps. Read more.
Platforms
Copyright Directive Polish complaint postponed. It was announced this week that the Court of Justice of the EU's opinion on Poland's complaint against Article 17 will be postponed until 15 July  – it had originally been scheduled for April 22. This places it well after the transposition deadline of 7 June for the Copyright Directive. Meanwhile, the Commission is still to release finalized guidance on the application of Article 17.
Copyright in Denmark. A new report from the Danish anti-piracy group Rights Alliance sheds light on online privacy trends in the country – which the group says has remained fairly steady but the 'overall number of users of illegal services dropped by almost 18%.,' reports TorrentFreak.
The group also states that it has "intensified the work with the platforms' responsibility for copyright infringement…in the work of implementing Article 17 of the EU Copyright Directive in Danish law."
Europol on platform data monopolisation. Europol's serious and organised crime threat assessment 2021 made some important reflection on the security concerns of large platforms monopolising data streams this week. "Leading technology companies will entrench their monopoly positions, drawing on financial resources and superior engineering capacities," the report states.
"The monopoly on data held by third parties will continue to pose increasing risks of manipulation and criminal use of personal information," the report states.
Harmful content appeals on Facebook and Instagram. Facebook's Oversight Board announced this week that it will begin accepting cases from Facebook and Instagram users who believe the company wrongfully allowed harmful content to remain on its platform.
JURI crackdown on illegal streaming. The European Parliament's Legal Affairs Committee this week adopted a position to crack down on illegal live streams of sports events, asking providers to remove manifestly illegal streams within 30 minutes after being notified. But not all MEPs were happy with the report. Pirate MEP Patrick Breyer said that "the draft resolution is a threat to our fundamental digital rights and could just as well have been written by industry lobbyists."
"It is completely at odds with the European Parliament's position on the Digital Services Act which is sufficient to deal with illegal content. A 30 minute delay would be even shorter than what will be required for taking down terrorist content, and much too short outside business hours, especially for small and non-commercial providers," he added in a written statement.
French turn to Twitch. French Prime Minister Jean Castex and former President François Hollande are among a number of French politicians who have been interviewed live on Twitch in recent months, with the video streaming platform being seen as a way to reconnect with disaffected youth. EURACTIV France reports.
Disinformation a concern in new Commission platform project. The digital platform to be launched on 19 April for EU citizens to participate in the Conference on the Future of Europe has been developed with the threat of disinformation in mind, the European Commission said on Tuesday (13 April).
Digital Services Act / Digital Markets Act
BEUC on DSA and DMA. The European Consumer Organisation BEUC have published their opinions on the DSA and the DMA. In the former, they ask for a stricter liability regime for online markets placers and more robust rules on how content is promoted by advertising and recommender systems. As for the DMA, BEUC focuses more on consumer interests and end users, stricter rules to prohibit gatekeepers from circumventing their obligations through the use of 'dark patterns', and more resources for adequate enforcement.
Telecoms
Commission 5G stakeholder workshop. The Commission will hold a second stakeholder workshop in its 5G Supply Market Trends project on 19 May. See more here.
Romania Vs Huawei. Romania's centrist government on Thursday (April 15) approved a United States-backed bill that effectively bars China and Huawei from taking part in development of its 5G network, a member of the IT&C and National Security Committee told Reuters.
Huawei and EU's semiconductor goals. Meanwhile, Huawei is keen to work alongside European companies to help the bloc achieve ambitious new benchmarks for semiconductors by 2030, as the firm continues to face challenges resulting from US trade restrictions.
Italy's recovery fund to go on broadband? Italy aims to spend almost 7 billion euros ($8.33 billion) in European recovery funds on ultra-fast networks, up 60% from a previous goal, as ministers lay out alternatives to a long-delayed single national broadband plan, sources say.
Money
ECB on Digital Euro. Fabio Panetta, member of the European Central Bank's executive board and chair of the task force on a digital euro, briefed members of Parliament's Economics committee earlier this week and highlighted the number one concern by stakeholders of the plans to roll out a 'digital euro' in the future: privacy.
As part of the ECB's potential decision to introduce a digital euro, which should come later this month, the ECB is considering additional privacy protocols that could be implemented into the digital euro, including the option of making small transactions 'totally anonymous' as well as being conducted offline. We've got more on that here.
Cybersecurity
EU and US against Russian cyberattacks. The European Union on Thursday (15 April) voiced support for the United States over cyber-attacks the latter has suffered, including a major hack blamed on Russia, as Washington imposed new sanctions on Moscow.
Slovakia is experiencing a major Cyberattack. On early Friday afternoon, the National Security Office issued an "exceptional warning", informing the public that it has been recording a series of significant ransomware attacks. In its short statement, it alerted "all companies and institutions in the country to immediately secure and back up their systems".
The National Cyber Security Center (SK-CERT) cannot currently provide more details in public due to the sensitivity of the topic, according to EURACTIV's Lucia Yar. It is expected that they will in the upcoming hours publish information on the situation.
---
On my radar
Lots of interesting things happening next week. As well as the Commission's grand regulatory proposal on Artificial Intelligence, there's also many things to keep you occupied in Parliament's Civil Liberties committee, including a vote on the committee's SchremsII report, and a presentation of the European Data Protection Board's opinion on the Commission's draft adequacy decision for UK data transfers. 
What else I'm reading this week:
A Far-Right Extremist Allegedly Plotted to Blow Up Amazon Data Centers (Wired)
I Thought My Job Was To Report On Technology In India. Instead, I Got A Front-Row Seat To The Decline Of My Democracy. (Buzzfeed)
China Fines Alibaba $2.8 Billion in Landmark Antitrust Case (New York Times)